What is APSIC ?
Objectives
The APSIC aims to promote interventional cardiology, particularly in the field of coronary intervention, in the Asian Pacific area.
The Society was registered on 17 November 2000 and the APSIC Secretariat Office is currently located in Hong Kong.
The Society comprise members from the Asian Pacific area and the diversity of our membership base is our key asset. A few members from each member nation/region are nominated or elected as Nation Representatives who reflect the views and opinions of members in their country. These representatives constitute the APSIC Board and meet at least once every year.
History
The APSIC (Asian Pacific Society of Interventional Cardiology) was first conceptualized at an interventional (PTCA) cardiology meeting organized largely by the former Schneider industry medical group. It was held on 29th March 1993 at St. Vincent's Hospital, Sydney, with a good participation of approximately 200 delegates.
Founding members:
The first group of cardiologists who conceptualized this inaugural APSIC formation are in the photo.
Dr Richard Ng (Singapore)
Dr Arthur Tan (Singapore)
Dr Dray Hung (Taiwan)
Dr John Ormiston (New Zealand)
Dr Ashok Seth (India)
Dr Upendral Kaul (India)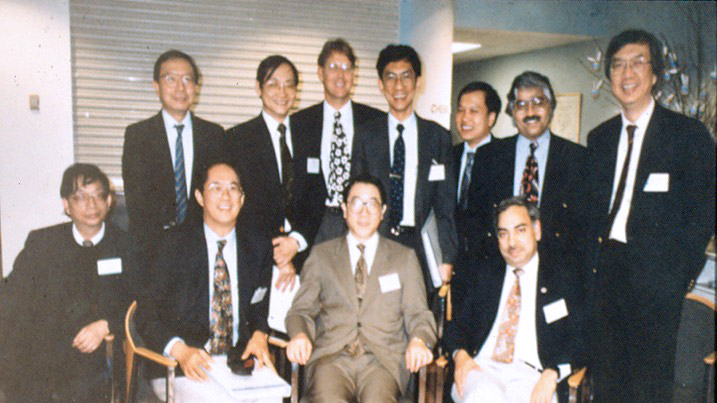 At the 3rd Live demonstration (Sing-LIVE) in Singapore organized by Dr Arthur Tan, Head of National Heart Centre, on 26-28 July 1993, the APSIC was formally formed with:
President: Dr Richard Ng (1993-1995)
Secretary: Dr Arthur Tan (1993-1995)
Mentors: The mentors who assisted and were present at the formation are Dr Patrick Serruys of Netherland and Dr Gary Roubin of U.S.A.
Newsletters: 8 quarterly newsletters were edited, produced and circulated by Dr Richard Ng.
Early messages: Are shown in the newsletter from Dr Roubin, Richard Myler and others.
Logo of APSIC: Was drawn up by Dr Richard Ng in 1993 and has remained the same throughout till today 25 years later.
Past Presidents and Secretary generals
The aim was to rotate the President and Secretary every 2 years and the subsequent office bearers were, the following.
Past presidents
Past Secretary Generals

Singapore (2014-2019)
Dr. Tan Huay Cheem
Dr. Lim Soo Teik / Dr Paul Chiam Toon Lim

China (2011-2013)
Dr. Junbo Ge
Dr. Huo Yong

Japan (2008-2010)
Dr. Shigeru Saito
Dr. Masashi Kimura

Korea (2006-2008)
Dr. Seung-Jung Park
Dr. Yang-Soo Jang

Malaysia (2004-2006)
Dr. Robaayah ZAMBAHARI
Dr. Sim KUI-HIAN


Australia/New Zealand (2002-2004)
Dr. John Ormiston
Dr. Ian Meredith

China (2000-2002)
Dr. Gao Runlin
Dr. Shen Wei Feng

India (1998-2000)
Dr. Samuel Mathew
Dr. Upendra Kaul

Japan (1996-1998)
Dr. Masakiyo Nobuyoshi
Dr. Shigeru Saito

Singapore (1994-1996)
Dr. Richard Ng
Dr. Arthur Tan
Member countries

Australia

Bahrain

Bangladesh

Brunei

Cambodia

China

Hong-Kong, China

India

Indonesia

Japan

Korea, Republic of

Kuwait

Malaysia

Myanmar

Nepal

New Zealand

Pakistan

Philippines

Saudi Arabia

Singapore

Sri Lanka

Taiwan

Thailand

United Arab Emirates

Vietnam