Asian Pacific Society of Interventional Cardiology (APSIC)
Dear Colleagues,
Today I take over from Dr Huay Cheem, the Presidentship of our August body THE ASIA PACIFIC SOCIETY OF INTERVENTIONAL CARDIOLOGY, a Society close to my heart as I was one of the Founder Trustees of this Society, which we conceptualised and started 26 years ago as a group of 10 interventional cardiologists of the AP region.
Right at the outset I echo everyone's sentiments and my own admiration for the stupendous achievements of Dr Huay Cheem in transforming the ailing society over the past 6 years to its present form of a robust active and preferred educational and academic powerhouse to represent the Asia Pacific to rest of the world.
It is thus now a greater responsibility and for all of us now to continue to grow and build further on the strong foundations which are past president has created. We need to think together and work together, ideas and suggestions need to keep flowing through formally or informally, and I promise that formally agreed ideas will be executed to the best benefit of the society. All of us play a role, I am privileged to be a Coordinator and a Representative.
I do believe that the future of the Society lies in the Present President working closely with the Past President and Future President (when elected). This provides continuity of initiatives and activities, alignment of thought processes and strategies and a seamless transferring of ownership and responsibilities and I will certainly create appropriate directions in the near future to enable this formally.
Please feel free to communicate your ideas and suggestions through our secretariat Joe Chan at any time.
You will be hearing from me within the next 2 weeks with further plans and updates.
I thank you for your support in this important journey of our Society.
Best wishes,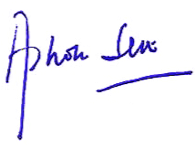 Ashok Seth
FRCP (Lond, Edin, Irel), FACC, FESC, MSCAI (USA), FIMSA, FCSI,
DSc (BHU, AMU, Amity U, TMU, Shiv Nadar U), D Litt (Jamia Millia U)
President of Asian Pacific Society of Interventional Cardiology (APSIC)